How to Have Safe Holiday Gatherings During the Pandemic
With the holiday season fast approaching, you may be thinking of ways to have safer gatherings this year. As new COVID-19 cases appear at growing rates, it can be difficult to make any gathering truly safe. While many of the basic steps we've taken all year — including washing your hands, wearing masks, keeping hand sanitizer readily available, continuing to practice social distancing, and getting tested prior to gatherings — can and should still be followed, there are still other steps you can take to reduce risk when seeing friends and family during the holidays. After all, the worst gift you could give someone in 2020 is COVID-19. 
If you can't bear to stay at home and avoid family this holiday season, there are steps that organizations like the CDC (Centers for Disease Control) recommend to help you and your loved ones have a jolly holiday season.
1. Set plans and expectations
Whether you're the host with the most or just a hungry guest, set some expectations on how the event should be handled. For example: "I expect everyone to wear their masks when they are not eating or drinking" or "If you feel sick, please don't attend Christmas dinner unless you have isolated yourself for at least 14 days before." Admittedly, this is where things can get a little awkward, especially if some family members are more stubborn than others. Don't be afraid to be a grinch if someone isn't doing their part. It is important to establish expectations when planning a family gathering, otherwise people will do whatever they please. Setting these plans and expectations will help keep things under control, reducing the risk of your family tradition turning tragic.
2. Shorten the guest list
Limiting the amount of people who attend your gathering is another option for reducing the risk of spreading COVID-19. The CDC doesn't have a specific number that would qualify for a "safe gathering," but fewer people in one place can reduce the chances of spreading COVID-19. Create a "holiday bubble" where anyone who plans to attend the gathering has to self-isolate for 14 days to ensure any symptoms from exposure to the virus have gone away. Though people may not like it, this step can be crucial for whether or not your gathering will feel "normal." If you are going to be interacting with elderly or high-risk members of your family, take even further precautions. And look on the brightside: With this limited list, you may finally have a reason to uninvite that weird uncle who acts like Scrooge when asked to wear a mask.
3. Take It Outside
If whittling down the guest list just doesn't seem possible, or you want to create an even safer environment, have your event outside this year! Being outside reduces the risk of spreading the virus since fresh air is constantly circulating, meaning you're less likely to inhale anyone else's respiratory droplets from the air. Having your event outdoors also means guests can social distance properly while still enjoying each other's company. 
4. Limit Travel
Travel options, especially air-travel, can still increase the risk of contracting COVID-19. Keeping your guest list limited to those who already live in the area means less risk of people being exposed to the virus from other passengers on planes or other types of public transportation. Monitor the number of cases in your area and where your loved ones live. If cases are spiking where you or your family members live, a gathering will only increase the risk of spreading the virus to one another. For example, if your sister lives in a city with a high number of cases, maybe ask her to self-isolate two weeks prior to the gathering or sit this one out. After all, there are worse things in the world than channeling your inner Kevin McCallister and celebrating at home!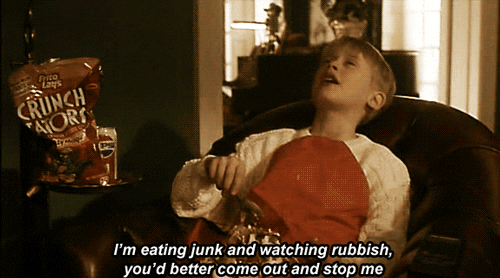 5. Check local guidelines before your visit
If you do decide to attend a gathering in another area, check the guidelines of the area you're visiting beforehand. Many states have local guidelines required of outsiders who are coming in. If you are visiting or are coming from an area with a high number of cases, you may be required to quarantine 14 days before your trip or come with a written negative COVID test. You wouldn't want to be scrambling at the last minute! Keep up with the CDC's tips and guidelines on all things you need to know regarding coronavirus.
6. Know when to stay home
We know missing out on a holiday gathering sounds miserable, but attending an event when you shouldn't puts you and your family at risk. If you or a loved one check any of these boxes, please consider staying home this holiday season:
Have pre-existing health conditions

Are in an at-risk population (Elderly)

Have been exposed to someone with the virus

Are experiencing COVID-19 symptoms

Are still waiting for COVID-19 test results 
Even if you aren't a high-risk individual for COVID-19, it's still in your family's best interest that you have a self-isolation plan in place if you're exposed. Flu season is also upon us, meaning you're more likely to fall ill around the time of your gathering. Your health should be your top priority this season, whether that means learning how to stay healthy during the flu season or preventing a sugar overload during holiday meals.  
For more holiday health tips including portion control tips and knowing and managing the signs and symptoms of stress, check out our blog page: visitcompletecare.com/blog. 
Attending a holiday gathering? Complete Care is here to help you know where you stand with COVID-19.  
Before planning to attend a holiday event, it's important to know if that gathering will be safe for you and your loved ones. If you're experiencing symptoms of the COVID-19 infection, get a rapid COVID-19 test from a Complete Care facility where you can get your results in minutes! We are open 24/7 and are typically able to see walk-ins within a few minutes, not hours. Protect yourself and your loved ones and visit your nearest Complete Care location today for quick, efficient, patient-centered care.
More Helpful Articles by Complete Care:
What Should I Do if My Child Has the Flu?
The Difference Between Urgent Care & The ER
When Should I go to the ER for Chest Pain?