Is Paddleboarding Safe While Pregnant?
Sports Injuries
•
Mar 29, 2022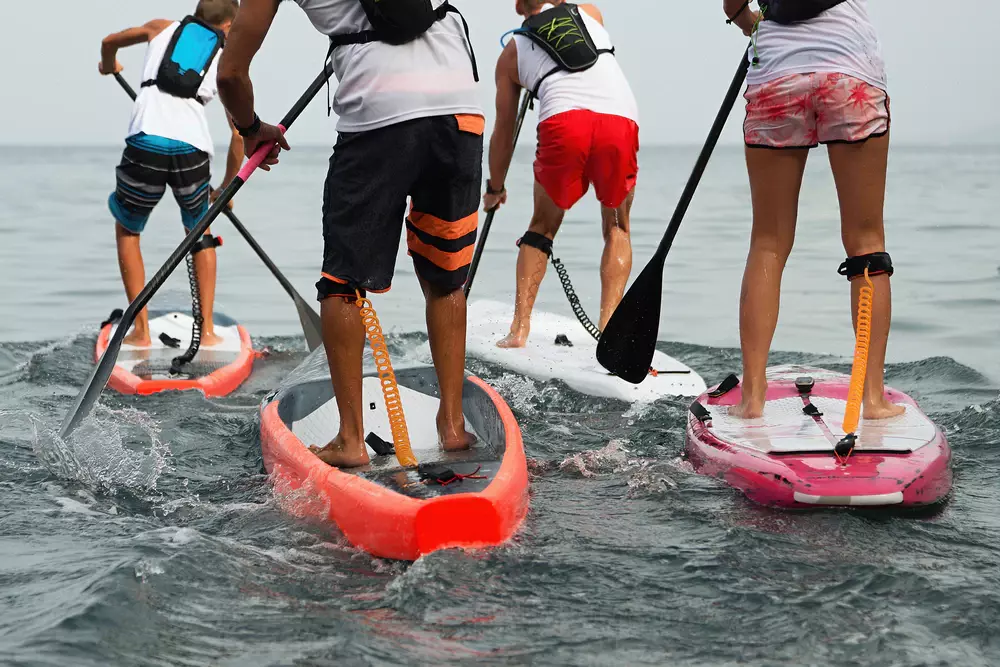 Is paddleboarding safe while pregnant? It can start to feel like you can't do anything while pregnant, and that finding a safe, enjoyable way to exercise might just have to wait until the baby is here. Changing your diet and exercise routine can be difficult, and safe, doctor-recommended exercises are hard to come by. 
Paddleboarding can be a safe and effective way to get some exercise during pregnancy, as long as you know how to stay safe on the water. Here are some tips about paddleboarding while pregnant, and avoiding water-related injuries. 
Can you go on a paddleboard while pregnant?
Many women decide that stand up paddleboarding (SUP) is a safe and fun way of exercising during pregnancy. There are however a few things to keep in mind:
If you are new to paddleboarding, your pregnancy might not be the time to take it up. While paddleboarding is a generally safe activity, it does introduce some risk factors.
Do not paddle alone! You should always take a friend with you when you hit the water, even if you're not pregnant.
Don't overdo it. Paddle leisurely and take breaks when needed. If you are already an experienced paddle boarder you might have to make a mental note to slow down to not overexert yourself. 
In addition to these, paddle boarders should always wear life vests out on the water. Even the strongest swimmers can be no match for the one-two punch that is fatigue and restless currents.
Is swimming safe during pregnancy?
Swimming is one of the safest ways of exercising during pregnancy, according to the American College of Obstetricians and Gynecologists. Exercising (safely) during pregnancy has been proven to be beneficial from the early stages of pregnancy all the way through delivery, and swimming is a great, low impact way to get that exercise. 
Some benefits of swimming during pregnancy are:
Being in the water can relieve discomfort that commonly accompanies pregnancy.
Aerobic exercise helps regulate sleep cycles, which are thrown into chaos during much of pregnancy.
The low impact nature of the exercise will ensure that you are not putting any undue stress on your bones and joints.
Swimming is safe during all three trimesters.
Some common swimming injuries are:
Shoulder injuries, including rotator cuff tendonitis and the aptly named "swimmer's shoulder", are the most common among swimmers.
Many water sports are lower back pain causes, but all swim strokes put pressure on the lower back.
Neck pain and strains.
Swimming, much like being on a paddleboard, comes with some risk factors, but is generally risk averse if you avoid certain activities. 
What activities should be avoided while pregnant?
Boat rides at moderate speeds are generally safe for pregnant women, but personal watercraft tend to be bumpier rides, and should be avoided at all times. These other high risk water activities should be avoided during pregnancy:
Diving
Scuba diving
Rafting
Parasailing
These activities are not recommended as they place you at a much greater risk of sustaining water-related injuries. 
Water-related injuries
Knowing how to avoid risk factors on the water contributes significantly to avoiding injuries and drowning prevention. Summer is the time of year when injuries are most common, and water related injuries account for many of the most common summertime injuries. In other words, there is some inherent risk to getting in the water, pregnant or not, on or off of a paddleboard.
Here are some things that you can do to avoid danger on the water:
Wear sunscreen, and plan to know a thing or two about sunburn treatment when someone inevitably doesn't.
Avoid overexertion, which can lead to muscle strain, and make swimming even more difficult. 
Know your swimming ability! Wear flotation devices or have a buddy if you aren't a strong swimmer.
Don't drink too much on the water. Alcohol is involved in an inordinately high amount of accidents that happen on the water.
Complete Care is here, for anything that happens on or off the water
So, is paddleboarding safe while pregnant? Yes, with a cautious approach, as there are a number of risk factors inherent to both being pregnant and being on the water. 
If you have had an accident on the water and need treatment, head into a Complete Care emergency room at any of our ER locations across Texas or Colorado Springs. Our medical staff is ready and waiting to take complete care of you.
More Helpful Articles by Complete Care: